Bio
BAYAN PROMOTIONS,  is a Filipino promoter and online ticket sales company, based in San Jose, California and serving the entire North America, owned and managed by Joseph Bayan.
 Joseph Bayan is a promoter based in San Jose, California,  he has over 15 years experience in management and marketing. Initially he was networker for a Multi Level Marketing firm called First Vita Plus USA, based in the Philippines.   Late 2016, while promoting First Vita Plus USA in Elk Grove, California, he ran into the  INTRoVOYS. As any good multi level martketer would do, meeting the famous 90's band INTRoVOYS  he invited them to their both and  offered him First Vita Plus Health Drink.  Which the artists did not decline the offer, much more Joseph Bayan gave the entire band of INTRoVOYS  a sample of the health drink.  Before Joseph Bayan parted ways with the INTRoVOYS, He got invited and the rest of his First Vita Plus USA team  to INTRoVOYS concert in Modesto, California on Feb 2017 for their Pre-Valentines Concert. Which Joseph Bayan has First Vita Plus USA as one of the sponsors of the concert.  
August of 2017, First Vita Plus USA  was going to have its 2nd Anniversary in Southern California and was looking for a special guest entertainer,  right away Joseph thought of the INTRoVOYS... and the rest way history.  
BAYAN PROMOTIONS, was establish in November 2018, during the launch of the franchise POP, ROCK & Hiphop for a Thanksgiving concert which features INTRoVOYS, Perfecto "Perf" De Castro of Rivermaya and HipHop artist from Las Vegas Pj "HBOM Segovia in Union City, California. Which was a sold out performance.
BAYAN PROMOTIONS, main objective is to promote only the finest and best local and international artist here is North America.  To offer producers the lowest artist packages possible, with the intent for the producers to maximize their profitability. 
Service being offered by BAYAN PROMOTIONS:
Online Ticket Sales
Line-Producing / Staffing
Social Media Marketing
Event Organizer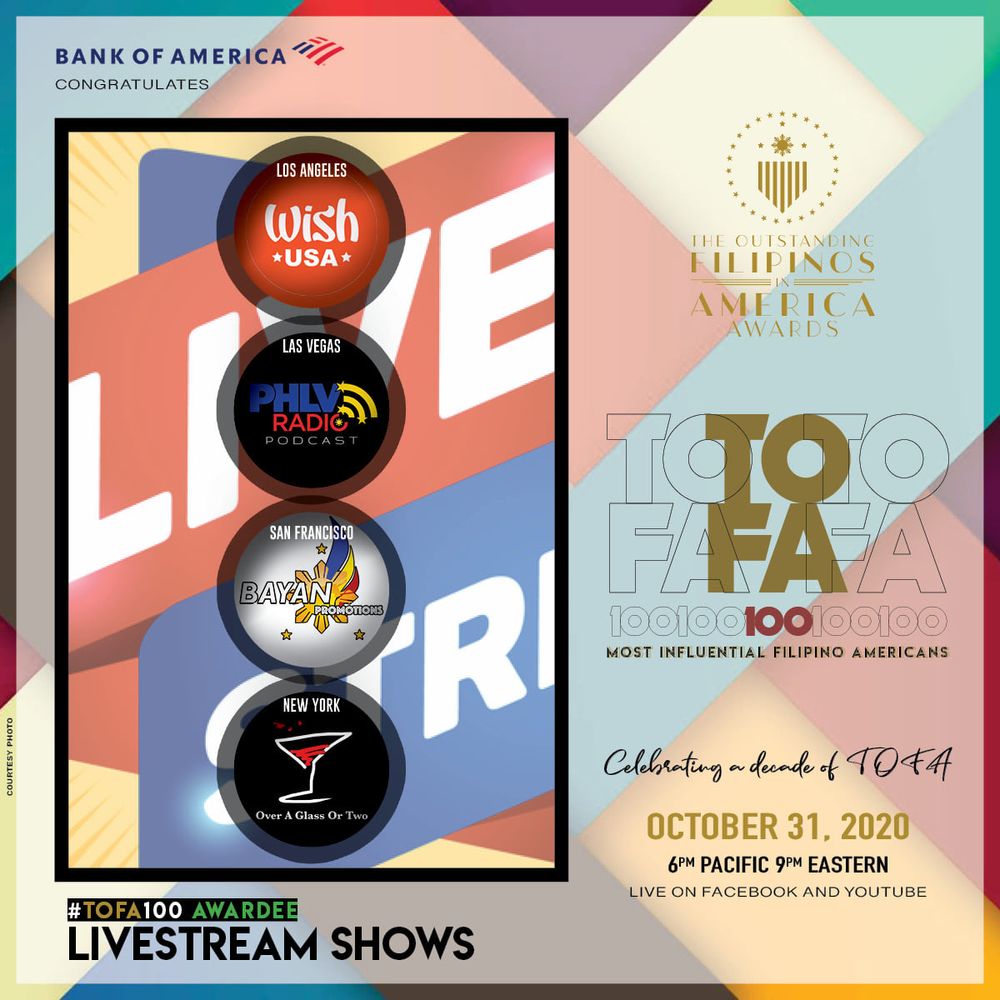 TOP 100 MOST INFLUENTIAL FILIPINO AMERICANS
BAYAN PROMOTIONS
FOR THE category of Live Stream Shows (Media), TOFA (The Outstanding Filipinos in America Awards) came out with the list of nominees who will be honored on October 31, 2020.
From its President Elton Lugay, "Live stream shows have become the panacea for Covid-19 times. With more than 3 billion views, the YouTube channel of FM radio station Wish 107.5 is where legendary and emerging Filipino musicians reach a global audience.
"In Las Vegas, PHLV Radio brings a taste of home to Filipino immigrants while keeping the world updated on Vegas happenings through its widely circulated podcast series.
"From its base in San Jose, Calif., Bayan Promotions streams its weekly virtual show "KanTambayan", which is short for Kantahan Tambayan kasama ang Bayan, featuring local and international artists.